På Ryslinge Efterskole lærer du at arbejde sammen med andre. At deltage og bidrage til et fællesskab. Og at samarbejde på kryds og tværs af de vante rammer. Vi har en række fællesfag, hvor du får undervisning, der rækker ud over det almindelige pensum – fra rengøring til pedelarbejde, morgengåtur og fællesmøder.
Alle elever deltager hver dag i formiddagssamling i skolens foredragssal, hvor de voksne fortæller på skift. Der bliver vidt forskellige historier – fra aktuelle begivenheder, personlige oplevelser til etiske dilemmaer.
Det kan også være, vi tager afsæt i aktuelle politiske begivenheder eller mærkedage.
 Måske spiller vi musik eller viser en kort film – ligesom du kan byde ind, hvis du vil gribe mikrofonen og stå for formiddagssamlingen.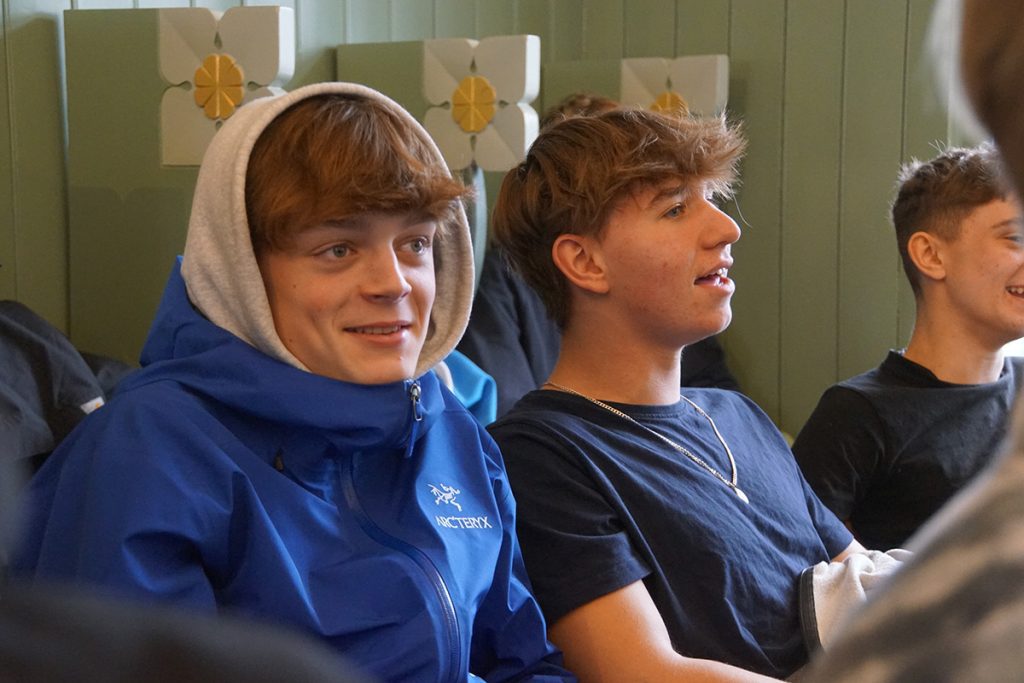 Hver onsdag har vi Sang- og fortælletime, hvor vi bl.a. lærer nye sange – både fra Højskolesangbogen og rytmiske sange. Derudover synger vi også de sange, vi bare godt kan lide at synge. Sang- og fortællertimen bruges også til en snak om trivsel, politisk aktualitet om kunsten, filosofien eller historien.
Hver onsdag holder vi fællesmøde, hvor elever, lærere og forstanderen er til stede. Mødet ledes af fællesmødeudvalget, som består af elever.
Formålet med fællesmødet er, at vores elever får kendskab til og erfaring med demokratiske styreformer.
Det kan du læse meget mere om HER
For at vi alle sammen kan trives, skal der gøres rent, så her er rart at være.
Rengøring er et fælles ansvar. Én gang om ugen skal du og dine værelseskammerater gøre rent på jeres værelse, mens vi to gange om ugen har det, vi kalder 'Pas-på-skolen-tid', hvor vi i fællesskab gør rent på hele skolen. Det betyder, at vores elever selv står for rengøring på værelser, baderum, toiletter, gange, køkkener samt skolens undervisningslokaler og fællesområder.
To gange årligt bliver hele skolen gjort hovedrent sammen med lærere og skolens rengøringspersonale
Køkkentjans og pedelarbejde 
Køkkentjans er en vigtig del af et efterskoleophold. Faktisk lige så vigtig som fagene og alle de andre aktiviteter. Her hjælper du med dagens måltider og klargøring af Spisesalen sammen med nogle af dine efterskolekammerater. 
Vores elever hjælper også på pedelområdet, hvor du bl.a. skal hjælpe med alle de praktiske ting, som skal gøres på skolen. Glæd dig; du kommer vidt omkring! 
I arbejdet lægger vi vægt på nærvær, ejerskab og sjove idéer. Når du har køkkentjans eller udfører pedelarbejde, kan du ikke deltage i al undervisning, men du er selvfølgelig forpligtet til at følge med i klassens arbejde og lave lektier.
I weekenderne er der fælles opgaver, som skal løses, og der hjælper du som elev også til.
Du har indflydelse i køkkenet og lærer en masse om madlavning og gastronomi. Det er virkelig fedt og brugbart
Lea S., årgang 22/23
Stilletimen varer fra kl. 18.00-19.15, mandag, tirsdag og torsdag. Onsdag ligger stilletimen fra kl. 21.00-22.00. 
Formålet med stilletimen er at give alle elever arbejdsro og hjælp til at studere. Du kan læse lektier på dit værelse eller i Spisehuset, hvor du kan få lektiehjælp af en lærer. I stilletimen skal der være ro på alle afdelinger samt på fællesarealerne. Det betyder, at du kan slappe af i ro og fred uden at være bange for at gå glip af noget.