På linjefaget Medie kommer du til at fortælle historier. Til at sætte dagsordener, stille spørgsmål og lede efter svar. Til at eksperimentere med journalistik, film, foto, grafik, lyd- og medieproduktion. Her er nysgerrigheden din vigtigste drivkraft, når du får rollen som journalist og lærer at kommunikere i skrift, billede, lyd og film.
Linjefaget er dit første indblik ind i den professionelle kommunikationsverden. Her bliver du forberedt på og får et indblik i en fremtid inden for journalistik eller filmproduktion, ligesom du kommer til at prøve kræfter med professionelt software, som bruges i industrien.
Bliv en del af vores mediefællesskab
På medielinjen kommer du til at indgå i en redaktion. Du får lov til at fortælle og formidle de bedste historier fra hverdagen på efterskolen og mulighed for at præge skolens sociale medier.
Derudover kan du glæde dig til at samarbejde med eleverne på andre linjefag om tværfaglige projekter – f.eks. lave musikvideoer, fiktionsprojekter eller reportager. Fra TikTok-videoer til plakatdesign; det handler alt sammen om at spotte gode historier! 
"Fedt at lære det grundlæggende for bl.a. at tage billeder – sejt, at prøve skolens forskellige udstyr"
Sigrid, årgang 22/23
En god film består af mange elementer. Fra manuskript til instruktion, lys, lyd, redigering og visning foran et rigtigt publikum. På medielinjen har vi fokus på at mestre filmens mange virkemidler og skabe fortællinger, der rammer plet hos publikum.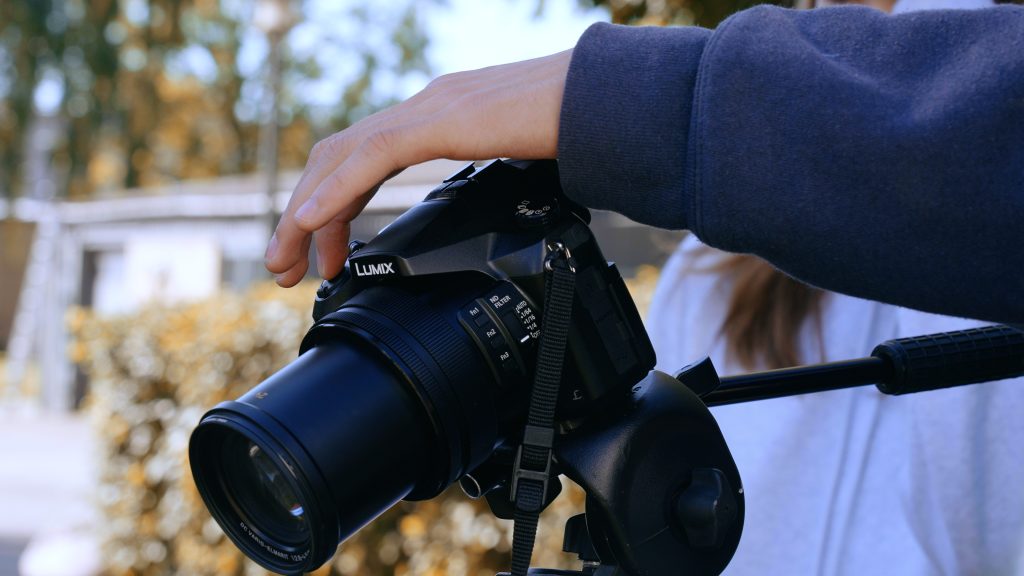 For at tage et godt billede, skal du først spotte et godt motiv – og derefter nørde med lysopsætning, billedkomposition og kameraindstillinger. Og arbejdet stopper ikke med klikket på udløserknappen – tværtimod; for så skal billedet redigeres i Photoshop eller Lightroom. Alt det lærer du på Ryslinges medielinje.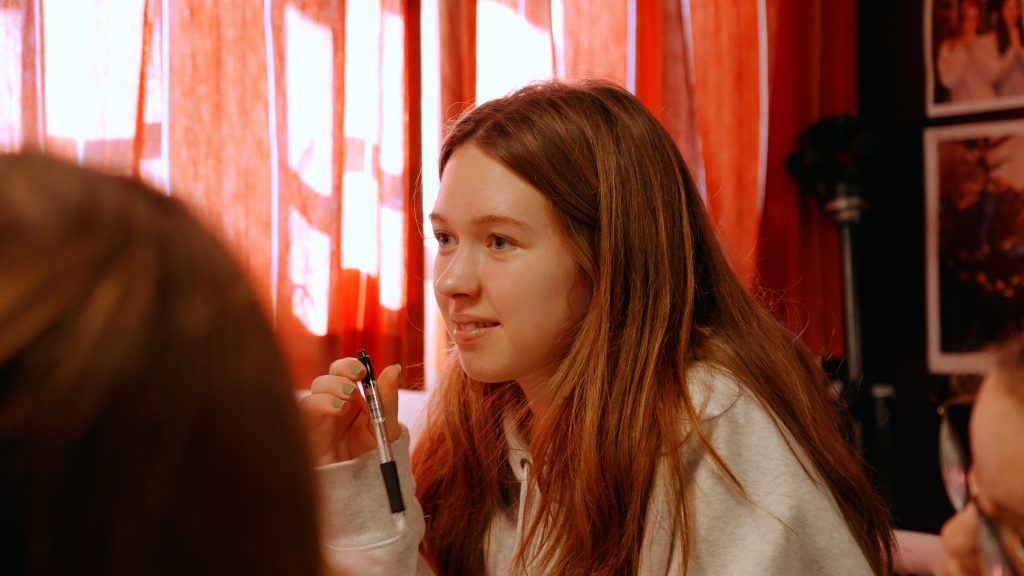 Brænder du for journalistik? Uanset om du brænder for det skrevne ord, eller om at være en del af en nyhedsredaktion på en TV-kanal, lave radioproduktion eller dokumentarfilm, får du fyldt din journalistiske værktøjskasse med færdigheder inden for interviewteknik, layout-programmer og programplanlægning.
Medieopgave i den virkelige verden
I vores samarbejde med Efterskolen Flyvesandet, skal vi ud at løse en medieopgave i den virkelige verden. Her skal vi som mediemedarbejdere ud at danne os et billede af hvad Flyvesandet er for en efterskole, for således at kunne lave produktioner der bruges i deres branding og markedsføring.
I mødet mellem de to forskellige efterskoler, hvor vi som medielinje tager journalistens og filmmandens briller på, og skal være nysgerrige på "den anden" – sker der ofte et interessant møde mellem mennesker, hvor både forskelligheder og ligheder får plads.
Læs om vores samarbejde med Efterskolen Flyvesandet her.
Medie er et af de fire linjefag, som var med fra skolens start
Kom vi ikke hele vejen rundt om medielinjen?
Sidder du med spørgsmål, kan vi måske hjælpe dig hurtigt videre. Herunder finder du relevante spørgsmål og svar.
Ja, det har du. På Ryslinge Efterskole har du dit linjefag hele året af flere grunde. Dels fordi, vi lærer hinanden rigtig godt at kende på et år og dels fordi, det er med til at styrke fagligheden på linjen.
Du skal have en computer med, som skal have:
Minimum 50 GB fri plads på harddisken
Minimum 8 GB RAM
Minimum 1,4 GHz processor
Derudover skal du have et SD-kort med. Hvis du derudover har et videokamera eller et spejlreflekskamera, er du velkommen til at tage det med, men det er selvfølgelig på eget ansvar.
På medielinjen arbejder vi bl.a. med følgende programmer:
Photoshop
Premiere Pro
Lightroom
Audition
InDesign
Aftereffects 
Du får ved skolens start adgang til Creative Cloud App, hvorfra du kan downloade hele Adobepakken.