På Ryslinge Efterskole får du en helt ny hverdag. Du bliver en del af vores sprudlende, spændende og nærværende efterskoleliv, møder nye venner, får ny viden og bliver klogere.
To dage på Ryslinge er aldrig ens, men én ting er sikkert; vi starter alle sammen med at gå morgentur kl. 07.00 og ligger i vores egne senge kl. 22.30. Alt, hvad der sker derimellem, kan variere i det uendelige.
Der er selvfølgelig mødepligt til alle aktiviteter, måltider og undervisning – det er jo derfor, du er her! Du skal opleve efterskolelivet og alt, hvad det har at byde på.
Nedenfor kan du se et eksempel på en dag på Ryslinge.
Dagen på Ryslinge
Kl. 07.00:        Morgenrute
Kl. 07.20:        Morgenmad
Kl. 07.45:        Morgensang
Kl. 08.30:        Undervisning
Kl. 10.00:        Forfriskning og pause
Kl. 10.30:        Undervisning 
Kl. 12.00:        Middagsmad og pause
Kl. 14.00:        Undervisning 
Kl. 15.30:        Forfriskning og pause
Kl. 15.45:        Undervisning 
Kl. 17.30:        Aftensmad
Kl. 18.15:        Stilletime
Kl. 19.15:        Aftenaktiviteter
Kl. 20.30:        Aftenforfriskning
Kl. 21.45:        På egen gang
Kl. 22.00:        På eget værelse
Kl. 22.30:        Ro. Godnat. 
Morgenrute
Vi starter hver morgen med en gåtur, hvor du får frisk luft og tid til at vågne, inden dagen går i gang. På den måde får du også oparbejdet en god morgenrutine.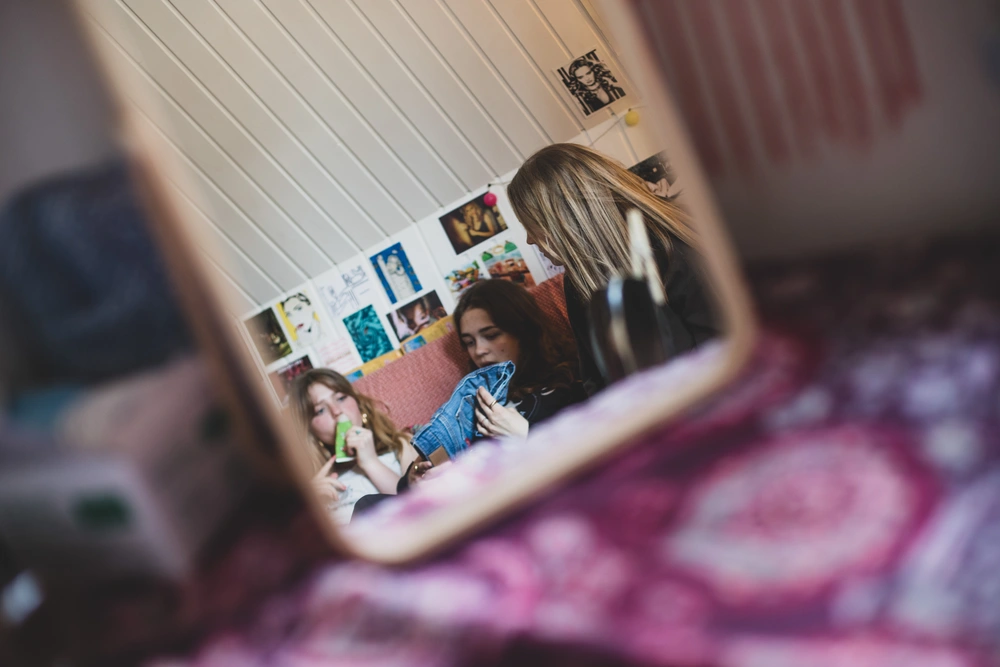 Stilletime
Hver dag har vi en stilletime, der varer fra kl. 18.00-19.15 mandag til torsdag.
Formålet med stilletimen er at give dig arbejdsro. Her får du tid til at studere og fordybe dig, og du kan vælge mellem at læse lektier på dit værelse eller i lektiecaféen, hvor der står en lærer klar til at hjælpe. I stilletimen skal der være ro i alle huse samt på fællesarealerne. Med tiden bliver stilletimen for de fleste en kærkommen pause, hvor der er plads til at reflektere uden at gå glip af noget; en lille pause til at afrunde en begivenhedsrig efterskoledag.
Weekender
Når klokken slår 15.00 om fredagen, starter weekenden. I de fleste weekender kan du vælge, om du vil tage hjem eller blive på skolen. Hvis du tager hjem, skal du være tilbage på skolen om søndagen og ankomme mellem kl. 19.00-21.00.  Hvis du er syg eller på anden måde forhindret, skal dine forældre ringe til skolens vagttelefon på 20 89 59 18 søndag mellem 19.00-21.30, idet vagtlæreren vil kontakte hjemmet, hvis du ikke dukker op. I løbet af skoleåret er der desuden omkring tre forlængede weekender, hvor du har fri – enten fredagen før weekenden eller mandagen efter. Vi opfordrer stærkt til, at du får ordnet lægebesøg, tandlægebesøg og lignende i forbindelse med disse weekender. Indimellem arrangerer vi også spændende bliveweekender.
Det er svært at beskrive eller vise en hverdag på Ryslinge Efterskole, men herunder har vi alligevel prøvet at samle lidt billeder som giver en fornemmelse af hverdagen på en efterskole, hvor hverdagen aldrig er ens
"Der er mange forskellige konstellationer på skolen. Man bliver blandet meget og det er fedt – på gangene, linjerne og i klasserne"
Alba, årgang 22/23
Kom vi ikke hele vejen rundt om hverdagen?
Du har helt sikkert mange spørgsmål. Herunder vi vil prøve at svare så godt, vi kan på de mest stillede spørgsmål 
Ryslinge ligger lige midt på Fyn med 22 km til Svendborg, Odense og Nyborg. To timer fra Københavns Hovedbanegaard. Fynbus rute 920 kører på timebasis til Nyborg station for dig, der kommer fra Sjælland, og til Ringe station for dig, der kommer fra Fyn og Jylland. Se køreplan på fynbus.dk
Undervisningstiden ligger mellem 8.30 og 17.15. Naturligvis med pauser mellem timerne og måltiderne. Du vil opleve, at der kan være undervisning om aftenen og i weekenderne. 
Det er dit ansvar at komme ud af sengen og møde til tiden. Her vil du opleve at fællesskabet er en fantastisk motor for at det lykkes. Vores elever plejer at være gode til at hjælpe hinanden - også hvis man lige skal have et lille skub for at svinge benene ud af sengen om morgenen.