AFPRØVE – EKSPERIMENTERE – LEGE – ERFARE – SKABE – SPRÆNGE RAMMER….  
Alt kan ske på kunstlinjen!
På kunstlinjen får du chancen for at fordybe dig, eksperimentere, bruge din fantasi, dine hænder og arbejde med at udtrykke dig kreativt og kunstnerisk.
Her får du mulighed for at skabe et rum, du kan forsvinde væk i.
Vi stiller ikke krav til dine evner. Du skal bare have lyst til at kaste dig ud i at prøve nye ting, sprænge rammer, være kreativ og eksperimenterende. Vi prioriterer tiden i værkstedet højt – så du det meste af tiden har gang i hænderne. Som elev på kunstlinjen får du også mulighed for at benytte værkstedet i fritiden.
(Gen)find din indre kunstner
Du lærer i løbet af året forskellige udtryksformer og teknikker. Vi kommer til at arbejde med:  keramik, skulptur,  installation, grafik, smykkefremstilling, maleri og sikkert mere til – for der kan altid opstå noget nyt i processen…
Vi sætter rammerne, men inden for dem er der stor frihed. I foråret får du god tid til at skabe et større selvstændigt værk, hvor du selv vælger udtryksform.
Vi skal ud af huset, besøge i hvert fald et kunstmuseum og have besøg af kunstnere, så vi får  fælles oplevelser og bliver inspireret. 
Vi skal først og fremmest have kunst i hænderne, arbejde i værkstedet, afprøve, fordybe os og eksperimentere med nye udtryksformer. 
Find os på instagram: ryslinge_kunstlinje
Alle børn er kunstnere, problemet er, hvordan man forbliver en kunstner, når man vokser op. – Picasso
"Det er rart med et roligt rum på efterskolen, hvor du kan fordybe dig, når det hele kan være lidt meget"
Camilla, årgang 22/23
Vi arbejder blandt andet med pladeteknik, modellering og forskellige former for dekorering; begitning, underglasur, dyppeglasur og penselglasur.
Vi arbejder med stentøjs- og porcelænsler og brænder i vores egen ovn på værkstedet.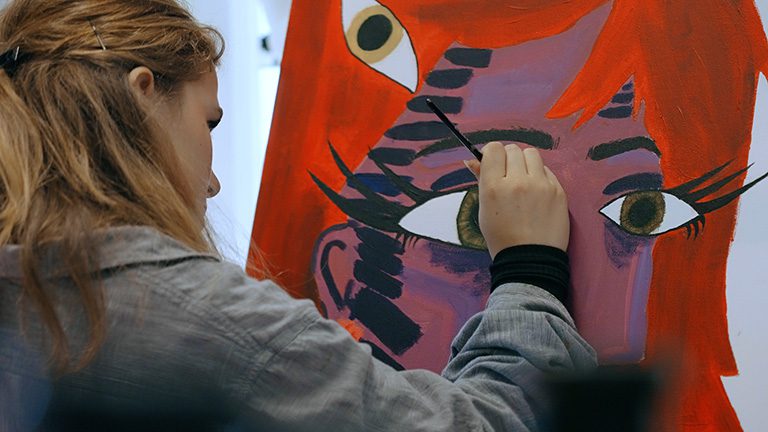 Vi arbejder med forskellige teknikker; højtryk, dybtryk, fotolito, linoleumstryk, paptryk, collografi mm.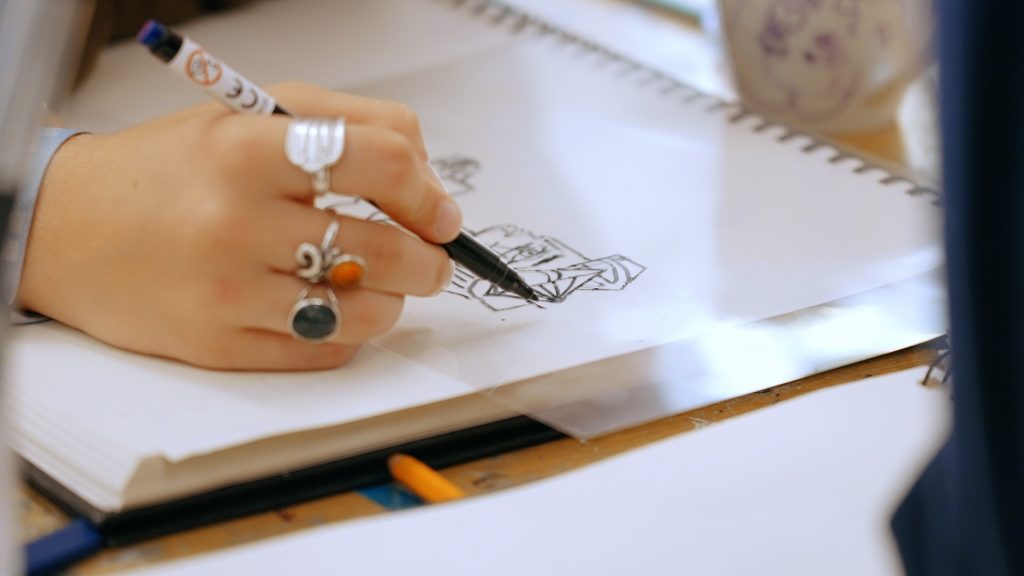 Vi arbejder med grundlæggende sølvsmedeteknikker såsom file, save, lodde og støbning.
Vi arbejder i kobber og sølv.
Vi arbejder med håndtegnede skitser og prototyper i f.eks. kobber.
Vi maler med akrylmaling, akvarel, collage, spray og arbejder både stort og småt, individuelt og sammen i makkerpar. Vi dekorerer blandt andet spisesalen med kunstlinjens malerier.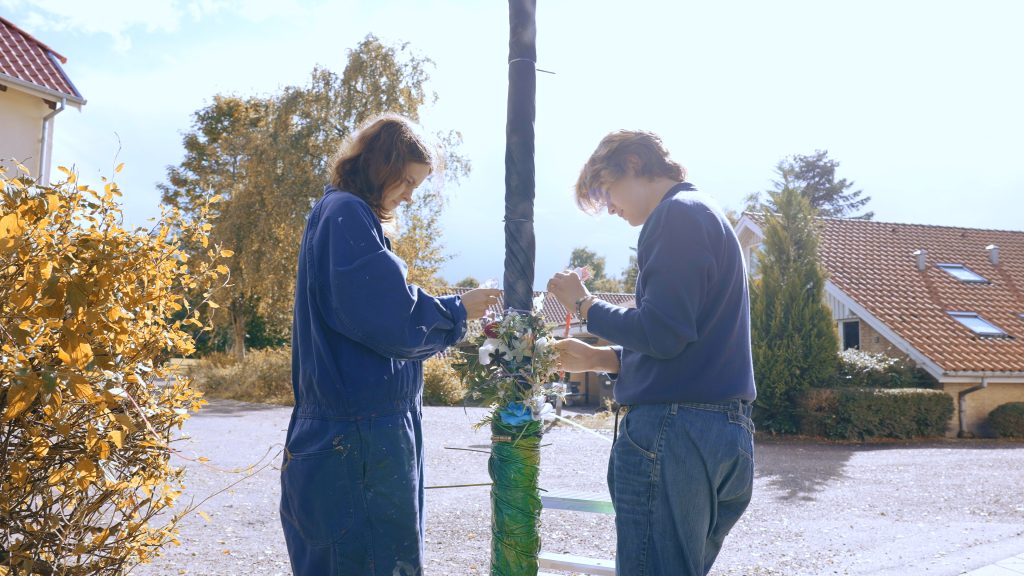 Vi bruger både det indendørs og udendørs rum på og udenfor skolen til at arbejde med installationer. Vi arbejder blandt andet med street art og land art.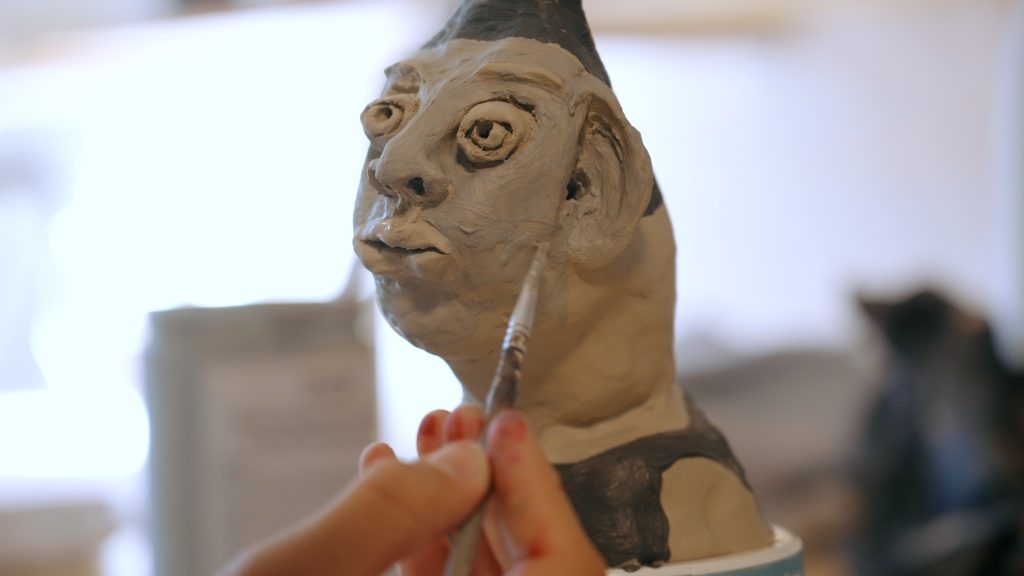 Du kan eventuelt skabe en skulptur i ler, skrot, upcycling, ståltråd, sølv og hvad vi nu ellers kan finde på!
Vi sætter rammerne for undervisningen og du lærer i løbet af året forskellige udtryksformer og teknikker, som du får frihed til at sætte dit helt eget præg på.
Der kan altid ske noget noget nyt og spændende i processen.
I løbet af foråret får du god tid til at skabe et større selvstændigt værk, hvor du selv vælger udtryksformen.
Afsluttende kunstudstilling
Kunst skal deles. Derfor afslutter vi skoleåret ved at udstille kunstværker, der er blevet til i løbet af året. Vi udstiller på Galleri 14.07 på Ringe Station. Udstillingen skydes i gang med en fernisering for familie, efterskolekammerater og lokale interesserede.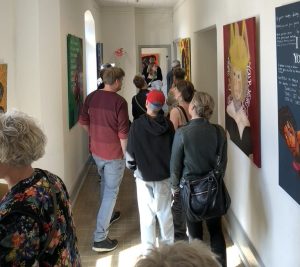 Kunst er et af de to linjefag, som er kommet til efter skolen er startet
Kom vi ikke hele vejen rundt kunstlinjen?
Sidder du med spørgsmål, kan vi måske hjælpe dig hurtigt videre. Herunder finder du relevante spørgsmål og svar.
Ja, det har du. På Ryslinge Efterskole har du dit linjefag hele året af flere grunde. Dels fordi, vi lærer hinanden rigtig godt at kende på et år og dels fordi, det er med til at styrke fagligheden på linjen. 
Ja, det kan du. Kig med på ryslinge_kunstlinje, hvor vi deler glimt fra vores værksted og viser dig værkerne, efterhånden som de bliver til.
Nej, absolut ikke, men du skal have lyst til og mod på, at kaste dig ud i nye ting. Det er rigtig godt at bruge dine "fejl" i din kunst.