Demokrati og medbestemmelse er et af nøgleordene på Ryslinge Efterskole. Elevdemokratiet er derfor en vigtig del af kulturen. Vi lægger vægt på, at vores elever opnår tolerance og forståelse for forskelligheder.
Elevdemokratiet på Ryslinge Efterskole udfolder sig især i elevbestemmelse i form af elevudvalg, som vores elever selv kan oprette efter behov. Det kommer også til udtryk til de ugentlige fællesmøder, hvor eleverne kan komme med forslag til forskellige ændringer på skolen. En elev eller en elevgruppe kan også komme med på et lærermøde og fremsætte et forslag, som lærerrådet så tager stilling til. 
Fællesmøder
En gang om ugen afholdes der et fællesmøde, hvor alle elever, lærere og forstanderen er til stede. Fællesmødet ligger umiddelbart efter værelsesrengøring hver onsdag. Fællesmødet styres af et elevudvalg bestående af en elev fra hver kontaktgruppe og to lærere. Det er de 15 elever, der på skift er ansvarlige for og facilitatorer af fællesmødet. Det er kontaktgrupperne, der bestemmer, hvem deres repræsentant skal være.
Fællesmødet er det forum, hvor der kan gives informationer og hvor eksisterende forhold eller nye tiltag kan drøftes af elever og lærere. Her får du mulighed for at foreslå ændringer eller komme med forslag til alt fra fritidsaktiviteter, interesseudvalg, pop-up arrangementer til ændring af de daglige rutiner. Forsamlingen har ingen beslutningstagende myndighed. Beslutningerne bliver taget af lærerrådet og i sidste instans af skolens ledelse.
Formålet med fællesmødet er, at du får kendskab til og erfaring med demokratiske styreformer. Vi vil gerne uddanne vores efterskoleelever til at tage ansvar, byde ind og være med til at påvirke den hverdag og de sammenhænge de indgår i.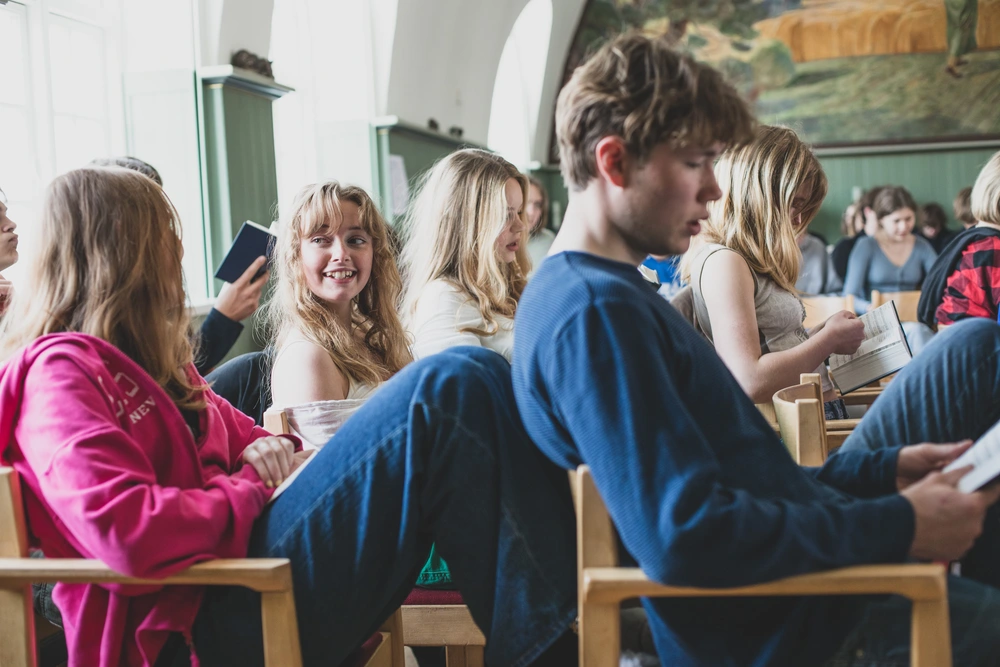 Gangmøder
Hver onsdag efter værelsesrengøring mødes vi på gangen til gangmøde. Her går rollen som mødeleder og referent på skift, og vi får vendt alt fra dagligdagsproblemer som glemt opvask til planlægning af hyggeaftener og udsmykning af gangen. Når vi er naboer og skal bo side om side et helt år, er det vigtigt at kende hinanden godt, så du kan også risikere at møde en sjov leg eller fællesmassage i en stor cirkel. Her er der tale om nærdemokrati i helt bogstavelig forstand, og det gennemgående spørgsmål er: Hvordan lever vi sammen på en måde, så alle har det rart på gangen?
Elevudvalg
Fra festudvalget til klimaudvalget – du kan indgå eller stifte netop det elevudvalg du vil, og sætte din interesse på skolens dagsorden, f.eks.: 

Festudvalg

Fitnessudvalg

Fodboldudvalg

Biografudvalg

Byttecentralen

Dagbogsudvalg

Årstidsudvalg

Klimaudvalg

Sponsorbarnsudvalg

Regnbueudvalg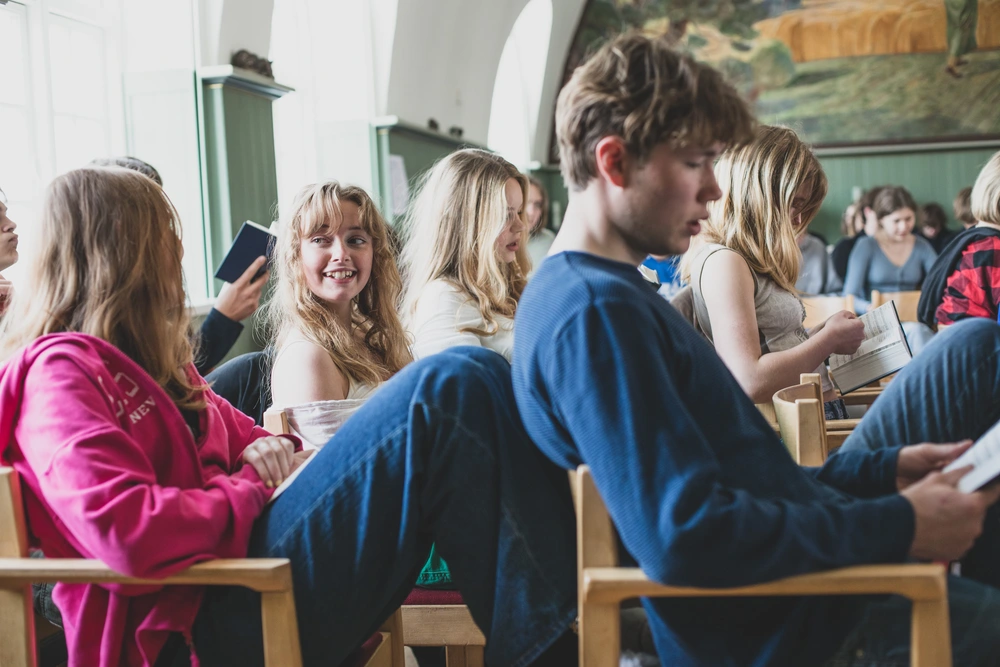 "Lærerne er gode til at skabe rammerne for at vores gode ideer kan blomstre"
Frida og Anton, årgang 22/23
Se hvad tidligere elever siger om at starte på efterskole, og hvad elevdemokrati har af betydning
"Hvis der er noget du gerne vil have indflydelse på, så kan du være med i et udvalg eller lave et udvalg"
"Man kan komme med alt muligt mærkeligt og tænke "okay, det her synes jeg er fedt" Og hvis bare man gerne vil det her, så kan det lade sig gøre"
"Vores fællesmøder er elevstyret?"